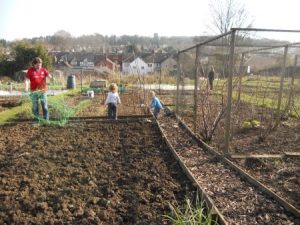 By now you should have the allotment manured and dug and ready for planting. This is the month for potatoes and brassicas.Most of us have already planted the first earlies but by the end of April all the potatoes should be in the ground. Don't forget to earth up any sprouting earlies before a frost – the valley sees frosts most years through into May and many of us have seen our potato crop retarded by being caught unawares. You can check with Ian Currie's website, frosted earth.Onions and shallots are probably well on their way but there is still time to plant globe artichokes, Jerusalem artichokes and asparagus. However, this is really the month for filling up the beds with seeds – Brussels sprouts, sprouting broccoli, cabbage, carrot, endive, kale, lettuce, cauliflower, peas, radish, spinach, and turnip – but watch out for flea beetle and turnip beetle, terrible pests this month and next. Either spray or delay planting vulnerable crops ie radish, turnip, rocket and sometimes spinach. Herbs such as coriander, chives and parsley are not affected and can be sown now.Don't forget to make use of successive planting for salad crops and peas. Also make use of your greenhouse to start aubergines, sweet corn, melon, courgettes, marrows, squashes, peppers and tomatoes.

The fruit is now budding and would benefit from a mulch and make sure they are protected from birds and foxes.

Finally a tip from Jeremy – sow your carrots between the onions to reduce the risk of carrot fly!